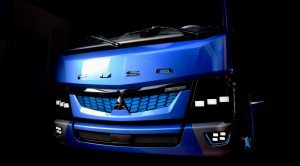 Fuso intends to start exporting it's eCanter city distribution truck (Class 4 in the US) to the United States later this year. Fuso has selected some fifty customers who will try out the electric truck in practice. They are offered a two year lease contract for a truck which would be about 15 to 20 percent more expensive than a comparable diesel powered version.
Th eCanter has a one hundred mile range, according to Fuso and the electric motor will be supplied by six traction batteries which are preconditioned during charging to ensure that the range stays the same in hot or cold weather.
Earlier, the eCanter showed up at the German IAA truck Show. Fuso expects to sell the eCanter for instance in California and in New York. At Iepieleaks, we expect that Daimler wants to make a worldwide sold electric truck out of the Canter.