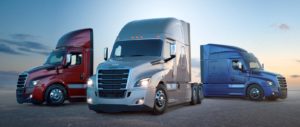 Daimler Trucks reaches the mark of 50.000 vehicles sold in the US with its bestseller Freightliner New Cascadia since production started in January 2017. The 50.000th New Cascadia was handed over to the customer Cargo Transporters (Claremont, North Carolina). Currently, Cargo Transporters operates more than 550 Freightliner trucks, now including over 120 New Cascadia.
The New Cascadia is the most successful truck for heavy transports on long haul routes (Class 8, > 15t zGG) in the North American market. Around four weeks ago, Daimler announced the first customers for the joint testing of the fully electric version of the Freightliner eCascadia. The first vehicles will be handed over to Penske Truck Leasing and NFI industries.
With its trucks brands Freightliner and Western Star, Daimler Trucks North America (DTNA) is the undisputed market leader with a market share of around 40 percent in the medium-duty and heavy-duty segments (Class 6-8).