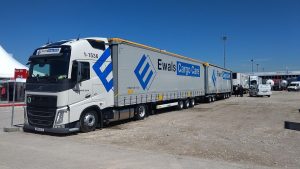 Dutch logistics company Ewals Cargo Care is known for ot's many multifunctional trailers. Their trailers are all mega's with the highest available inner loadspace. Yet their trailers are also suitable for railtransport. Recently, Ewals showed a combination consisting of two mega's. This combination measures 32 metres. If it's up to Ewals, this combination should be allowed all over Europe.
Ewals says that this is the best solution to combat the ever increasing flow of goods to be transported throughout Europe, causing many traffic jams and parking problems. At the same time, a CO2 reduction of 40% is possible and the shortage of truckdrivers is tackled, all with this same solution. These trailers are still capable of being put on trains and on ferries separately as well.
To allow such combinations, Sweden raised it's maximum allowed GVW up to 74 tonnes. Earlier, the Finnish did the same and they raised the bar to 76 tonnes. The Dutch are at 60 tonnes for their 25,25 metre combinations at present.