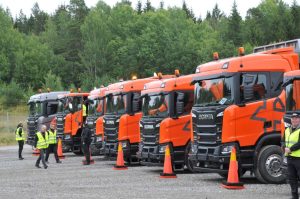 The Dutch Ministery of Defens has ordered 2037 new Scania XT trucks. The trucks will be built by the largest plant of Scania, in Zwolle, in The Netherlands. It is the biggest defense order for Scania ever.
All kinds of variants are bought ranging from two to four axles. Also, the dutch Defense authority bought lots of exclusive equipment such as armioured spare cabs, which may be needed after use of the trucks in risky areas where drivers need protection from bombs, mines and missiles. The trucks will be used by all disciplines, not just army, but also airforce and navy.
The trucks will be delivered gradually between 2018 and 2022. The first trucks will be handed to the driver school of the Defense organisation, which will cooperate with Scania Driver Services to train defense personnel properly.