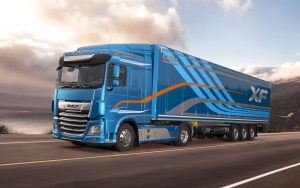 DAF Trucks has just launched the 'Pure Excellence' models at the CV Show in Birmingham. The new generation of CF and XF models are up to 7% more fuel efficient and have a lot of technical and stylish novilties.
The DAF MX11 and MX13 engines give more power and torque, up to 530 Hp and 2600 Nm in the new top model. The gearboxes are the new ZF Traxon generation that provides faster shifting. New is also that the DAF engines are now ready for Biodiesel B30, HVO and GTL fuels.
DAF reduced the weight of 4×2 tractors with 100 kg, the 6×2 tractors are 130 kg lighter than before. The biggest weight saving was gained by the new exhaust unit that is 40% smaller than before. That means there is more space for fuel on the chassis, especialy important for the British market. Another advantage is that there is now more ground clearence under the damper unit.
The interior has a new climatisation unit, a light dimmer for the interior lights and a new dashboard display. Also the interior trim is new with new colours.
The exterior has just minor changes with a new name plate and a reworked sun visor.