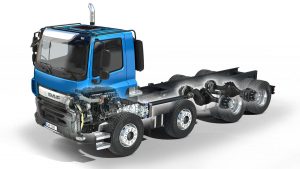 The New CF and New XF range is complete. DAF Trucks has added 11 tractor and rigid axle configurations to its new line up; eight 2, 3 and 4 axle rigids and three 3 and 4 axle tractors. The new trucks are according to DAF up to 7% more fuel-efficient, are at least 100 kg lighter, have integrated body builder modules to shorten body building time and provide 'best' in class jobsite performance.
DAF launched the first long haulage versions of the New CF and XF at the beginning of summer and is now introducing a new series of multi-axle and rigid vehicles. The new vehicles are now available with common as well as some unique new features.
SCR
The new rigid chassis benefits from the ultra-compact EAS of the New CF and XF. The EAS can now be fitted in its entirety (i.e. as one single unit) between the first and second front axles (in the 8×4 FAD). This makes it according to DAF possible to use the free space for the addition of crane legs, toolboxes or extra (fuel) tanks and results in increased frame layout options and extra payload, thanks to its 50 kg lower weight. One of the most important innovations within the New CF and XF program is the new trailing axle for both tractors and rigids that facilitates maximum manoeuvrability.  The new trailing axle incorporates a newly developed EHS (Electric Hydraulic Steering) system which is according to DAF 30 kg lighter, resulting in extra payload. The steering is very precise, DAF says, because the EHS continuously calculates the optimal steering angle for the rear axle wheels on the basis of speed and wheelbase. The new steered trailing axle can be fitted on 6×2 rigids and tractors as well as 8×2 rigids.
DAF is also introducing a new dual-mounted 10 ton trailing axle, which has a static load capacity of no less than 34 tons. This is highly valuable when loading and unloading heavy containers. The new axle has reduced curb weight by 25 kg. When combined with the other New CF and XF weight reductions, this results in an overall 125 kg of additional payload. DAF's new dual-mounted trailing axle can be fitted on 6×2 tractors and rigids, as well as 8×2 rigids.
Double driven tandem
For vehicles that regularly drive off-road, DAF is presenting a new double-driven tandem with hub reduction (HR1670T). This axle set boasts a completely new cast-iron axle housing that provides an extra weight reduction of 60 kg.  In order to achieve the highest possible fuel efficiency, even faster final drive ratios (3.46, 3.61, 3.76:1) are available. These ratios allow the engine to operate at even lower revs. To ensure the lowest possible operational costs, oil-change intervals for the new tandem set have been raised to 3 years or 450,000 kilometres. The new dual driven tandem with hub reduction is available on 6×4 and 8×4 tractors and rigids for heavy duty applications. This range includes the FAD 8×4 rigid with two steered front axles commonly used in the transportation of sand and gravel.