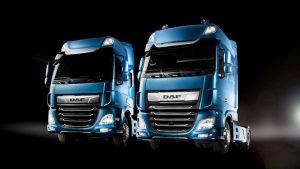 DAF's New CF and XF have been voted 'International Truck of the Year 2018' by an independent jury of leading road-transport journalists from 23 European countries. The most prestigious award in the European truck industry was handed to DAF Trucks president Preston Feight by Gianenrico Griffini, chairman of the jury at the Solutrans exhibition in Lyon.
New standard in overall performance
"The annual award is presented to a new truck or model range that has made the largest contribution to road transport efficiency, based on several important criteria including technological innovation, driver comfort, road safety, drivability, fuel economy, environmental 'footprint' and Total Cost of Ownership", commented Gianenrico Griffini, chairman of the jury. "With the introduction of the New CF and XF series, DAF has delivered a medium and heavy-duty truck range that sets a new standard in terms of driveline efficiency and overall performance".
Great recognition
On behalf of the 10,000 DAF employees throughout Europe, DAF Trucks' president Preston Feight received the prestigious 'International Truck of the Year 2018' award. "The honors belong to every member of the DAF organization", he added. "We all worked hard to make the best trucks on the market even better. The result are the New CF & XF – representing Pure Excellence. It is fantastic that all these efforts are rewarded in such a great way. In addition, winning the 'International Truck of the Year 2018' award is a recognition for our suppliers and dealers, and most importantly, it is a fantastic tribute to all those customers who have chosen or will choose the DAF New CF or XF. The jury commented that the trucks are leading the way in transport efficiency. What to say more?"