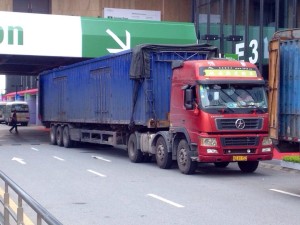 Now here is one that I never saw before. The badge says 'Dayun' but that doesn't realy ring a bell. Are they connected to Volvo? Or to DongFeng? I did know that Dongfeng and Volvo have a relationship but this cab seems to be the Original FM cab. Anyone has more information?
The configuration of the tractor is 6×2 in what we call 'Chinese six' layout. Now I understand why we call it that name!
Also note the extreme long container.. Looong vehicle so to say..