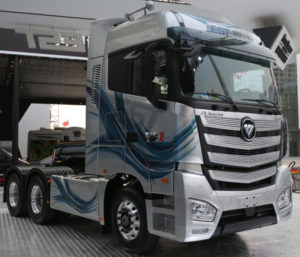 The Chinese truck manufacturer Beijing Foton has launched the 'China Internet Super Truck.' This Auman EST (Energy Super Truck) was showed at an event in Athens, Greece. The Internet super truck project is a collaboration that brings together Foton Motor Group, Cummins, and Daimler AG and aims at building Internet-driven super trucks that are green, efficient, safe, and intelligent through the integration of global resources, the effective use of new energies, the establishment of vehicle networks, and the implementation of intelligent truck-loading technology.
The goals call for a 30% reduction in vehicle fuel consumption (or, to take it a step further, a 100% reduction in liquid or gaseous fuel consumption by adopting a fully electric model), a 30% reduction in carbon emissions (or, if the electric route is chosen, elimination), and to increase freight efficiency by 70%.
The Chinese truck producer has formed a team that consists of Foton Motor, ZF Friedrichshafen AG, Cummins, COSCO Logistics, CEVA Logistics, Faurecia, WABCO, Continental AG, TUV Rheinland, and Baidu, These are companies that are experts in the fields of automobile manufacturing, power systems, transportation, electronics, intelligent logistics and internet technology.
We wonder if we are going to see this truck at the IAA later this year in Hannover.