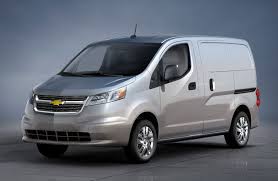 Chevrolet enters a new marketsegment, that of light vans. The Ameircans didn't develop their own light version, nor did they look for such a solution in Europe, as Chrysler did. Chevy will sell the Nissan NV200, with a true Chevy face, as this picture shows.
The Chevy-made-by-Nissan will be named City Express. It receives a two litre pertrol engine and will display a pay-load of just around a tonne. Electricity will be supplied by a 12 Volt network. There will be two sliding doors, rear doors which split 40/60 and which cab be opened either 90, or 180 degrees. There will be two comfort levels, LS and LT. This seems to become the workhorse for companies like FedEx.
In Europe there's a fully electrically driven version which is not yet on the cards at Chevrolet. This eNV200 is to be sold as a taxi as well.