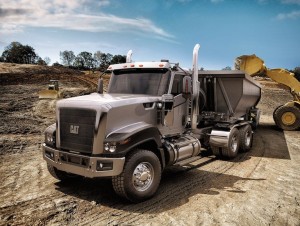 Construction equipment giant Caterpillar has decided to end it's truck business. In 2011 Caterpillar started to build it's own trucks with the help of Navistar, known for it's International truck brand. Caterpillar appears not prepared to cough up huge investments that are needed to keep it's line of vocational trucks competitive in the market. Caterpillar says there's insufficient market opportunity to justify these extra investments.
So no more new orders are accepted fot the CT-Series of vocational trucks. However Cat will keep delivering service to it's customers who still operate Caterpillar trucks.  Approximately 70 people within Cat have to look for another job now.
Meanwhile, Navistar introduced it's own vocational truckseries, the HX.