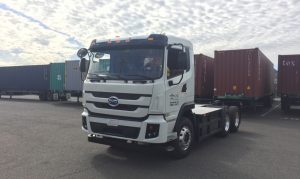 Chinese electrial vehicle specialist en battery producer BYD has delivered a Class 8 electric truck to a Californian governmental board. The authority intends to find out in how far electrical trucks may replace diesel trucks in port area's.
The truck will start shuttling containers on a short with a company specialised in this kind of work. The company in question tries to lower opertaing costs by improving air quality and lowering maintenance costs. Reduced noise levels need to be added to the advantages as well.
It is quite typical that the port authorities use a Chinese truck for this test, as there's quite some new electrical truckstuff on it's way in California, from several new manufacturers.