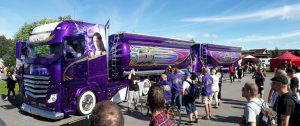 Finnish haulier and showtruck specialist Mika Auvinen has launched a spectacular new purple combination, based on a Mercedes 2663 Actros rigid. Again, the end result is spectacular and it is up to your taste if you like it or not. At least we have never seen anything that comes near this Actros conversion.
According to the latest fashion in showtrucks, Auvinen has tried to lower his combination as much as possible. Strangely enough, Auvinen has not chosen the lowest Actros cab. But when we take a look at the wheels, with their whitewall tires, we have the impression that Auvinen wants a really low profile with this one. As always, Auvinen chose the most powerful version of the Actros, 630 hp.
Auvinen won the Swedish Power Truck Show and we will see wat prices will follow.