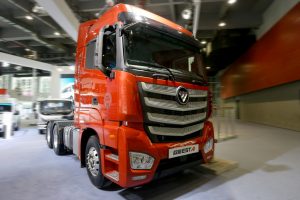 During the third Guangzhou International Commercial Vehicle Exhibition the Auman EST won the very first 'Chinese Truck of the Year' award ever.
The Auman EST is the latest heavy-duty truck model from Beijing Foton Daimler Automotive Co., Ltd. (BFDA), which extends the portfolio of locally manufactured trucks. Hereby, Daimler Trucks once again strengthens its global market presence while consistently focusing on regional customer and market requirements.
"We are proud that the 'Chinese Truck of the Year' jury has recognized our efforts with this honor. The Auman EST embodies Daimler Trucks' advanced technologies and our strong commitment to providing trucks adapted to the specific requirements of Chinese customers," says Zhou Liang, President and CEO of BFDA. "This award highlights the success of our German-Sino cooperation between Daimler and Foton," he adds.
The Auman EST is a product of Beijing Foton Daimler Automotive Co., Ltd. (BFDA), a 50:50 joint venture between Daimler AG and Chinese manufacturer Foton Motor. Its target group is logistics customers looking for long-distance logistics solutions with on-time delivery, high efficiency and added value. The truck is equipped with intelligent drive features and adheres to high quality standards. It accumulated over 10 million km test mileage over four years, including R&D and testing in Europe.
The "Chinese Truck of the Year" jury is formed of professionals from the commercial vehicle media, customer representatives, and members of the "International Truck of the Year" jury, which is renowned in the commercial vehicle industry. According to the jury's rules, the evaluation criteria cover the fields of innovation, efficiency, emissions, safety, drivability, and comfort.