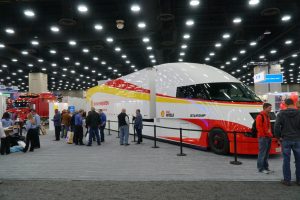 What if length regulations woud not be a legal issue. In the USA the Airflow Truck company shows what is possible for driver comfort and aerodynamics, and therefor for the enviroment when length regulations for tractors don't matter. During the Mid American Truckshow Shell Rotella presents the Starship. The Starship is an innovative, step towards reducing emissions and increasing overall efficiency and fuel economy in the transport sector. This next-generation diesel truck features a custom, aerodynamic design and aims to demonstrate improvements in fuel economy for class 8 trucks while lowering CO2 emissions.
The Starship is a combination of aerodynamics and improved technology for lowering both fuel consumption and CO2 emissions. The sollution for that is not only in those topics, but also in internal friction. Shell Lubricants and AirFlow Truck Company joined forces to develop a hyper-fuel efficient Class 8 tractor trailer,  Starship and are sending it coast-to-coast to see just how energy efficient goods transport.
The truck is equiped with a Cummins X15, six cilinder diesel engine with 400 Hp and 1.850 Ft.lbs of torque. Transmission is an Eaton 18 speed automatised gearbox. The rear axle ratio is 2,50:1 and the configuration of the truck is 6×2 with an electric powered tag axle. This means the electric driven tag axle can help the diesel engine going uphill. Regenerative braking provides the electrical power that is needed.
The electrical system is 48 volt with a dual bus 48/12 volt electrial system. The alternator is 48 volt and there is a 6000 Watt inverter on board. Engine starting is done with a 12 volt Supercapacitor. On the roof of the trailer there are solar panels to feed the electrical system.
The cab and alle the aerodynamic features are made of carbon fibre. The radiator grille cover is active and can be opened when needed, or closes for reduced airodynamics.
Photography: William Subben for BIGtruck online magazine More information on BIGtruckmagazine.com!