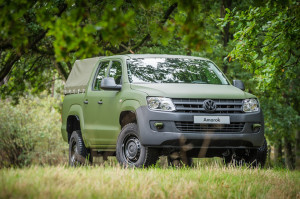 The Dutch Army has signed a contract for 1667 Volkswagen 4-Motion Amarok pickup trucks. The Amarok is going to be the new standard allround offroad vehicle for the Dutch defence forces.
There is a service and maintanance contract with VW for the 4×4 vehicles. The Volkswagen Amarok has the 140 Hp TDI engine, the 4-Motion system and a double cab. Improved cooling capacity, larger battery's and extra heating systems are built in. Also there are going to be special army lights and some extra racks for weapons and several towing points.
The Volkswagen Amarok is going to replace the Mercedes G-types.